Makeshift Desk In Any Chair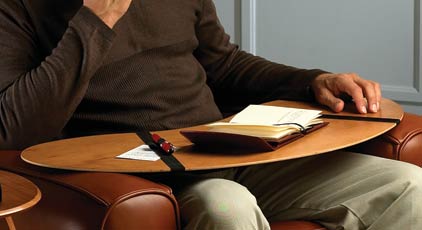 The boys (I am guessing from the tone of their podcasting voice) behind the Minimal Mac blog shared a sexy little tool for converting a simple chair into a desk. In a shared living environment, a hacker house, or some other "complicated" living situation people are always fighting for laptop room. With this lap desk from Lavenger, you pave your own path...fuck, that was corny.
Sorry for the crotch shot above, apparently these things aren't openly photographed in the wild. The result? Many small and useless pictures roaming around the web.